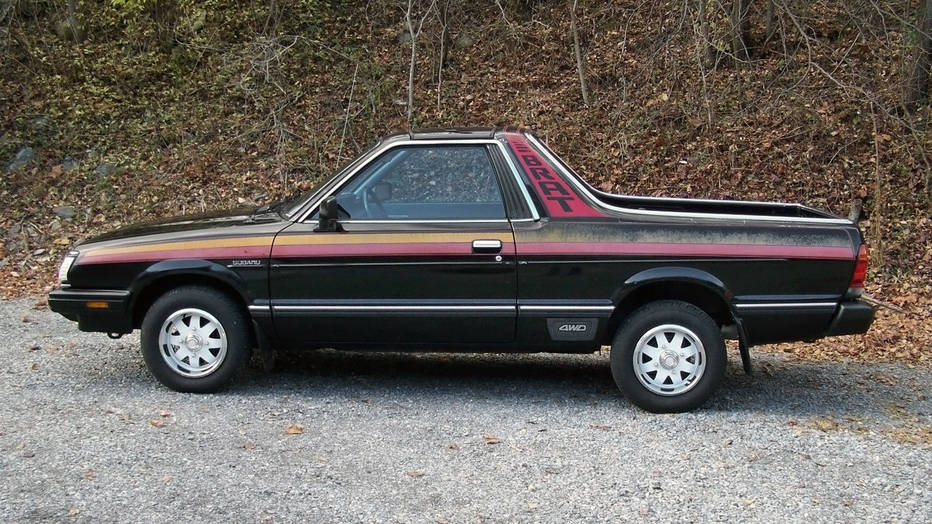 The weird little Subaru rocketed over the crest and launched its Into space, and do all four who Is left the ground, what had seemed like harmless fun only few moments ago turned into pretty dumb way to et terrified Yes, there's that peculiar familiar old feeling in the pit of your stormach when you realise you're in real trouble but that there's no turning back. Just as it on the destroyer captain few micro seconds before the the U-boat that there's a chance he might screw up and sink his own III the process the only thing left to do is ride it out. Go with the flow, even the thing has no roll bar and you've got no helmet. work, stupid.
On the other hand, that's what this was all about Subaru I supplementing its line with a secret new recreational vehicle called the BRAT, they told me, so go out to Palm Springs and get crazy with it. Since getting crazy with oddball isn't wholly unusual pastime with me, it seemed like a good idea at the time, but as I trucked into coin capital of the desert, I wondered just how crazy you can get in a foot of sand with only 65 horsepower.
Upon arrival at Subaru's makeshift press headquarters I had fully expected to find some bizarre clown car because we had been forewarned what BRAT stood for-
Bi-drive Recreational all-terrain Transporter, assuming you slur the letters together and squint your eyes a little. But when I wheeled John Buttera's fenderless '29 Model A highboy roadster into the posh racquet club replete with suspiciously thin hipped young Walters, there on d1splay was a stand of good-looking mini-trucks. Aside from the dumb-looking mud flaps on all four comets and 21 pair of glass bucket seats bolted awkwardly onto the bed, the BRAT actually as peered to be stylish imported As I found out, at Subaru, appearances con be deceiving.
You didn't have to be Charlie Chan to m49 notice the Subaru people twitching whenever anyone referred to the BRAT as a truck. At the preview breakfast they took took time to explain that the four-wheel drive system was Intended for snowy streets or drive ways, not off-road And with that they loaded us Into a bevy of BRATs and headed us out for a full day of off-roading.
That night around the pool it took some serious big-city investigative reporting in conjunction with a half dozen well placed Margaritas to get one Subaru type to cut loose with the real story. The import duty on trucks is 25 percent while duty on "four wheel drive on-highway passenger cars, new" IS only three percent. Which is why the BRAT looks like the station wagon with the roof cut off. It is.
Subaru, of course, is best remembered for those little 360cc cars" Malcolm imported that were last seen winding their two-cycle two-cylinder engines to the painful death on some PG-rated Southern California bumpercar track. You might even go so far as to think of Subaru as Japan's answer to Studebaker, although lately, of course, Subaru has been doing just fine, even If it is tucked into the shadow of Datsun and Subaru sales jumped 66 percent in the first two-thirds of 1977, passing Fiat and making it the fifth largest auto importer in this country. Of course, you've got to remember that the Japanese auto industry as a whole was up the same percentage in that period as far as imports to this country were concerned. Just how much weird cars had to do with Subaru's success was what I was here to find out.
Take a look at our other Classic Magazines
Ferarri 348 Twin Turbo
MCA Centennaire (Monte Carlo)
LAMBORGHINI P140 (Italy)
Mercedes-Benz W124
The Fastest Lotus Esprit – Turbo SE
Bugatti T110
Ferrari F40
Bentley Nepal
JIO'ITO CASPITA
AMC Concord DL
Honda Accord Minilitte
Volkswagen Corrado
Dodge Magnum GT
Ford Capri 3.0 GT
FORD PROBE Contender or Nolo Contendere?
Mercedes-Benz C112
TurboHawking
Morgan 8 Plus
BENTLEY NEPAL (U.K.)
LOTUS ESPRIT ZR— 1
The Esprit SE on the Track
Dodge Mangum GT
From Lone Genius to General Motors
The Complete Classic – Por­sche 911 RS America
Vector W8 Twin Turbo
Mercedes 280 CE
Six Packed For Style
The Great White Cruise
Porsche 989
BMW 8 cylinder 740i
Chevrolet Camaro Z28
Bugatti T110
Supercharged Bonneville SSEi
FERRARI 348 TWIN TURBO
FERRARI 512GT
De Tomaso Pantera
The Winfield Driving School – Where legends are born
Mitsubishi 3000GT
Money Makes the Cars Go Round
Porsche 911
McClaren F1