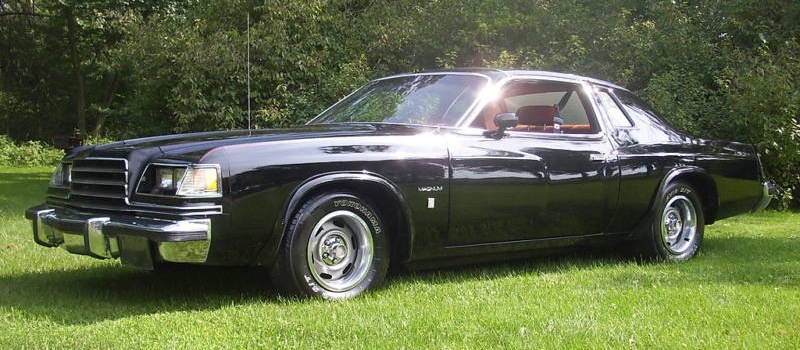 Ever wonder what happened to the kid who used to burn up 11th Street?
He grew up. He's making some real money now, and he's got a good career. Street racing and drive-ins went out with his "wet look". But he still appreciates a strong, lean, well-engineered road machine. And that's exactly what the new Dodge Magnum GT was designed to be.
Behind that classic Cord-type grille lies the newest addition to a long line of cars built over the years by Chrysler Corporation for the true enthusiast. The Magnum GT Package. It is distinguished in appearance, even from the Magnum XE, by colour keyed fender flares subtly blended into body metal. By special 15×7 wide road wheels with big GR60x15 Aramid fibre-belted white-letter radial tires. And by interior touches unique to the GT alone.
On the business side, Magnum GT gets it's personality from an isolated front torsion-bar suspension system with anti-sway bars front and rear. And from heavy-duty shock absorbers and power front disc brakes. And from engine availabilities from 318 cubic inches up to 400 cubic inches… all teamed with standard TorqueFlite automatic transmission.
Check out the new Dodge 318 cubic inches at your Doge Dealer's and buy or lease the excitement you've been missing in most modern automobiles. Mother Mopar wouldn't let you down.
Take a look at our other Classic Magazines
BMW 8 cylinder 740i
The Great White Cruise
Ford Capri 3.0 GT
Honda Accord Minilitte
FORD PROBE Contender or Nolo Contendere?
Bentley Nepal
Dodge Magnum GT
From Lone Genius to General Motors
Supercharged Bonneville SSEi
MCA Centennaire (Monte Carlo)
FERRARI 512GT
Porsche 911
Ferrari F40
AMC Concord DL
LAMBORGHINI P140 (Italy)
Subaru Brat
Volkswagen Corrado
Porsche 989
The Esprit SE on the Track
Ferarri 348 Twin Turbo
The Fastest Lotus Esprit – Turbo SE
Morgan 8 Plus
De Tomaso Pantera
McClaren F1
Bugatti T110
Mitsubishi 3000GT
FERRARI 348 TWIN TURBO
Bugatti T110
Chevrolet Camaro Z28
JIO'ITO CASPITA
TurboHawking
Mercedes-Benz C112
Money Makes the Cars Go Round
Mercedes 280 CE
Six Packed For Style
Mercedes-Benz W124
The Winfield Driving School – Where legends are born
LOTUS ESPRIT ZR— 1
Vector W8 Twin Turbo
The Complete Classic – Por­sche 911 RS America
BENTLEY NEPAL (U.K.)