A hyperexotic, accompanied by glamour, glitz, technical wonder—and penguins too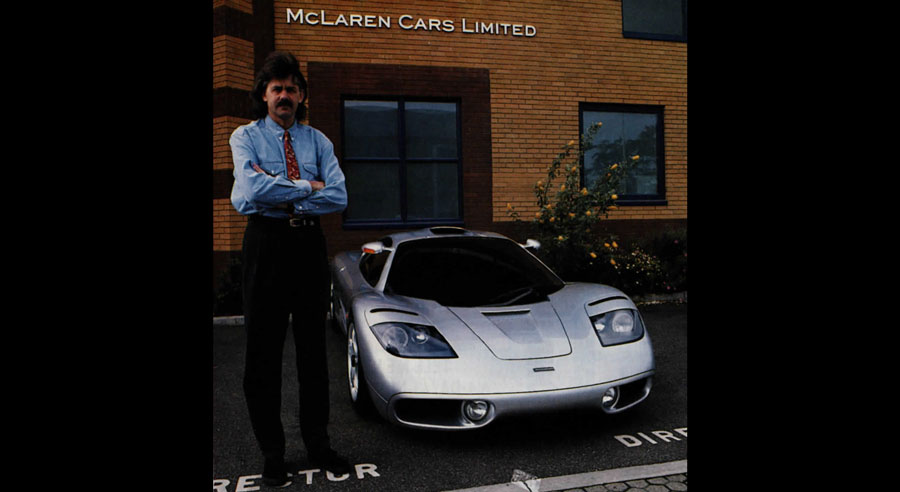 The Setting was glamorous indeed: 'The Sporting Club of Mo-naco, Thursday evening before he Grand Prix. Elegantly dressed people. Marvelous music (of which more anon). At center stage, circled by benchmark cars bearing the McLaren name, was a mysterious shape draped in silver. Everyone knew it had to be the McLaren F1 hyperexotic. Then came the glitz: mellifluous tones from the master of ceremonies, swirly multicoloured lights, dry-ice mist. The silver cloth was pulled away—to reveal not McLaren's new road car, but last year's all-conquering MP4/6! A subtle joke, that. Then, rising out of the mist came another silver shape; this one, the object of everyone's interest. The car, says technical director Gordon Murray, "represents the pinnacle of 20th century high-performance sports-car design." A heady claim, indeed, were it from any company but McLaren.
Consider just a few of its features: a carbon-fiber monocoque defining a properly swoopy shape, 1+2 seating with central driving position, fan-assist-ed ground-effect aerodynamics, electronically controlled brake cooling, active aerodynamic center of pressure control, 6.1-litre BMW V-12 power; engine management and other electronics linked by modem to McLaren head-quarters. The list goes on.
But what's most telling is the car's philosophical positioning among the world's exotic cars. The F1 is replete with technicalities, yet firmly grounded in McLaren basics; it's innovative, yet conservative. For instance, its powertrain has no traction control of any sort, and its brakes are non-ABS, in fact, non-assist-ed. Instead, a Brake and Balance Foil is hinged into the rear deck. Under heavy braking, this airfoil angles automatical-ly for optimal grip and stability. And, in a latter-day adaptation of Murray's 1978 Brabham BT46B fan car, two high-power electric fans remove the turbulent boundary layer from the un-derbody to enhance efficiency of the car's downforce-generating diffuser. Let's pay less heed to several of the car's claimed "firsts," especially when one can nitpick priorities.
As one example, a central driving position with a passenger seat set back on each flank isn't new. It was an equally controversial feature of the Ferrari 365P executed by Pininfarina (R&T, November 1991). This time around, Murray says the layout has proved its practicality. How-ever, I must admit that no one was al-lowed to try it out in Monaco; admittedly, the Fl there was a mockup, a "clinic model," not a fully engineered runner. It certainly looked inviting enough. What's more, any of the three seating positions is said to accommodate a 95th-percentile adult, no doubt even the 6-ft. 5-in. Murray himself.
Unlike some other exotic cars that come to mind, there are no hardships here. Air conditioning, tailor-made leather luggage, a carbon-composite document case, a fitted titanium tool kit, and, from Kenwood, the world's most compact 10-disc CD player. My music of choice? Simon Jeffes' Penguin Cafe Orchestra: the same whimsically minimalist music that orchestrated the Monaco introduction—specially chosen by none other than Gordon Murray!
Certainly inviting, but you'll have to wait your turn: 50 cars per year, the first in late 1993, at some $980,000 each; a maximum run of 300 cars by century's end.
Take a look at our other Classic Magazines
Chevrolet Camaro Z28
Porsche 989
Ferrari F40
FERRARI 512GT
Mercedes 280 CE
BENTLEY NEPAL (U.K.)
The Great White Cruise
Bentley Nepal
Dodge Magnum GT
Money Makes the Cars Go Round
FORD PROBE Contender or Nolo Contendere?
Ferarri 348 Twin Turbo
Mitsubishi 3000GT
The Fastest Lotus Esprit – Turbo SE
De Tomaso Pantera
Vector W8 Twin Turbo
Dodge Mangum GT
From Lone Genius to General Motors
Mercedes-Benz C112
FERRARI 348 TWIN TURBO
TurboHawking
Porsche 911
JIO'ITO CASPITA
Bugatti T110
Supercharged Bonneville SSEi
LAMBORGHINI P140 (Italy)
Mercedes-Benz W124
Ford Capri 3.0 GT
BMW 8 cylinder 740i
MCA Centennaire (Monte Carlo)
Morgan 8 Plus
Subaru Brat
The Complete Classic – Por­sche 911 RS America
The Winfield Driving School – Where legends are born
The Esprit SE on the Track
Bugatti T110
AMC Concord DL
Honda Accord Minilitte
Six Packed For Style
Volkswagen Corrado
LOTUS ESPRIT ZR— 1