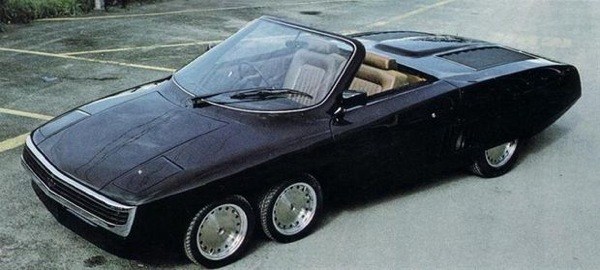 Why would a British replica manufacturer want to build a turbocharged rear-engine six-wheel roadster? Why, why not ?
The choice of a six-wheeled configuration Was not made on technical grounds, but once it had been made, we began to
find technical advantages deriving from it. Panther managing director Bob Jankel speaks quite frankly about the motives behind his design of the new six-wheeler winch was the rage of London's autumnal Motorfair, but there is a lot more to be said. For a start, with 600 hp at its service, the car should has no difficulty in beating the 200-mph target set for it.
For another thing, with 600 pound-feet torquing through its Hydramatic transmission to he rear tires, it fray very well acceleration standstill to 100 mph in the seven or eight seconds envisaged. For a third, even with those tires measuring 265 mm across the tread, the device is going to break traction all too easily. Should it perhaps have been an eight-wheeler?
What good does it do, having six? It will not go any faster than with four; but it will stop a lot faster, steer better, and, most important of all, the owner will have no difficulty in identifying his vehicle among the masses in the car park. Identity, that was what Jankel sought. The Panther firm was well enough known, but not known for the right things. It was the old old story of the public figure whose public did not understand him, of the clown who wanted to play Hamlet.
Panther was "that firm making fancy replicas of old-fashioned cars;" only a handful of people knew that Panther was also a firm doing superb restoration work on genuine vintage cars, a firm doing regular contract work on Phantom Six body parts for Rolls Royce, a firm whose standards of craftsmanship and integrity brought it prototype work from some of the biggest manufacturers in the business.
For a company scarcely six years old, that is not a bad reputation to have but the cars most people associate with Panther are the one that look fondly back to a much more distant past. The Panther De Ville is a pseudo Bugatti Royale, the Panther J72 is a pseudo
SS Jaguar 100, and the little Lima now being produced in uncharacteristically large numbers (a new factory in the most western corner of England will soon be making a version for America) looks like a customised Dellow pretending to be a Frazer Nash. All very quiet.
Take a look at our other Classic Magazines
The Fastest Lotus Esprit – Turbo SE
LOTUS ESPRIT ZR— 1
Mercedes-Benz C112
The Complete Classic – Por­sche 911 RS America
BMW 8 cylinder 740i
FERRARI 348 TWIN TURBO
Ferrari F40
The Esprit SE on the Track
Vector W8 Twin Turbo
JIO'ITO CASPITA
LAMBORGHINI P140 (Italy)
Porsche 911
Mercedes 280 CE
Bugatti T110
From Lone Genius to General Motors
McClaren F1
The Winfield Driving School – Where legends are born
FERRARI 512GT
Ferarri 348 Twin Turbo
The Great White Cruise
Honda Accord Minilitte
Volkswagen Corrado
Money Makes the Cars Go Round
Dodge Mangum GT
Chevrolet Camaro Z28
Ford Capri 3.0 GT
Supercharged Bonneville SSEi
Mitsubishi 3000GT
BENTLEY NEPAL (U.K.)
Bugatti T110
Subaru Brat
FORD PROBE Contender or Nolo Contendere?
Dodge Magnum GT
AMC Concord DL
Bentley Nepal
Porsche 989
De Tomaso Pantera
TurboHawking
Morgan 8 Plus
Mercedes-Benz W124
MCA Centennaire (Monte Carlo)