Originated in Germany, Audi R8 RWS and Porsche 911 GT3 have similarities as well as drastic differences. Both cars rear wheel drive versions but Audi R8 RWS is the first to drive without front drive shafts, most probably used to reduce weight to compete with Porsche 911 GT3.
Porsche 911 GT3 has a rear engine, which quick to accelerate and tend to over steer but supple beautifully under the control of racetrack expert. Right suspension and engine tuning needed to overcome over steering – tend to turn more sharply – effect of rear engine. A good example of the same is Porsche 911 GT3.
Audi R8 RWS engine is mid-mounted or at the rear mid position of the exotic car giving traction at equal levels to all four wheels. It balances the weight between front and rear providing stability while taking turns. It costs the space for back seats and goes out of control in a spin, due to the placement of gravity at a mid position. However, compared to rear engine Porsche 911 GT3 this gives more stability to Audi R8 RWS.
Audi R8 RWS is costlier than the Porsche 911GT3.
Performance wise Porsche 911 GT3 has a better acceleration of 0-62mph in 3.4 seconds, while Audi R8 RWS takes 3.7 seconds for the same. Beating this drawback Audi R8 RWS 5.1lt V10 engine produces a 540hp@7,800rpm with a torque of 398lb-ft @6,500rpm generating a top speed of 199mph, compared to Porsche 911 GT3 4.0lt Flat-six engine with an output of 500hp@8,250rpm, and a torque of 339lb-ft@6,000rpm, to run at 198mph top speed a little lesser than the Audi R8 RWS.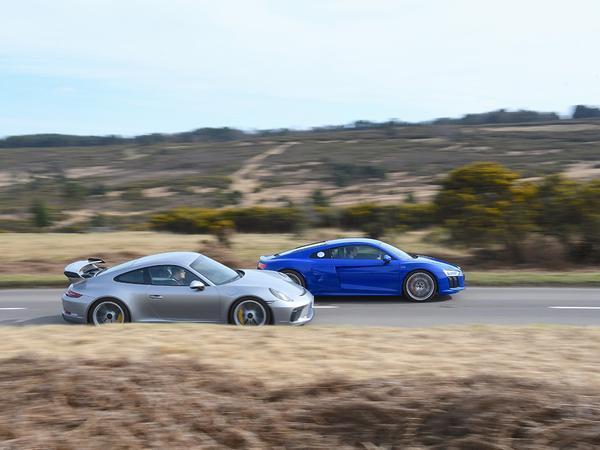 The weight of the exotic cars reveals part of the cause for closer top speeds with different engine outputs. Audi R8 RWS is 85 kg heavier than Porsche 911 GT3 (1590kg of Audi R8 – 1505kg of Porsche 911).
The gear transmission system of Audi R8 RWS is seven-speed twin-clutch automatic, there is no manual option, while Porsche has a seven-speed PDK automatic transmission, which allows manual gearshift and automatic mode both for smoother gear changes. This caused no interruption to power, resulting in faster acceleration.
Fuel efficiency is a bit better with Audi R8 RWS – 22.8mpg and carbon emission is 283g/km compared to 22.2mpg of Porsche 911 GT3 with carbon emission 288g/km.
From outer appearance, the flat and wide exotic car Audi flashes opulence and grace, while Porsche remains the same as its previous brands. The glass panel of the rear windscreen gives a super view and super appearance for the exotic car Audi R8.
Audi R8 RWS is a Limited edition (999 cars produced) was not a successful model as expected by the manufacturers. Elegant in poise and stable at every part, the drive is a bit frail as in a four-wheel but has good supple with a lighter steering movement. As always Audi does, the car performs great at extreme condition of grip and footing. At low speed, the Audi R8 RWS is quieter but high speeds make it shaky.
Not flashy as Audi R8 RWS, Porsche 911 GT3 is great in speed as its roar.
See more from our Head 2 Head Series
Click on a marque below to see our selection of exotic cars for rental