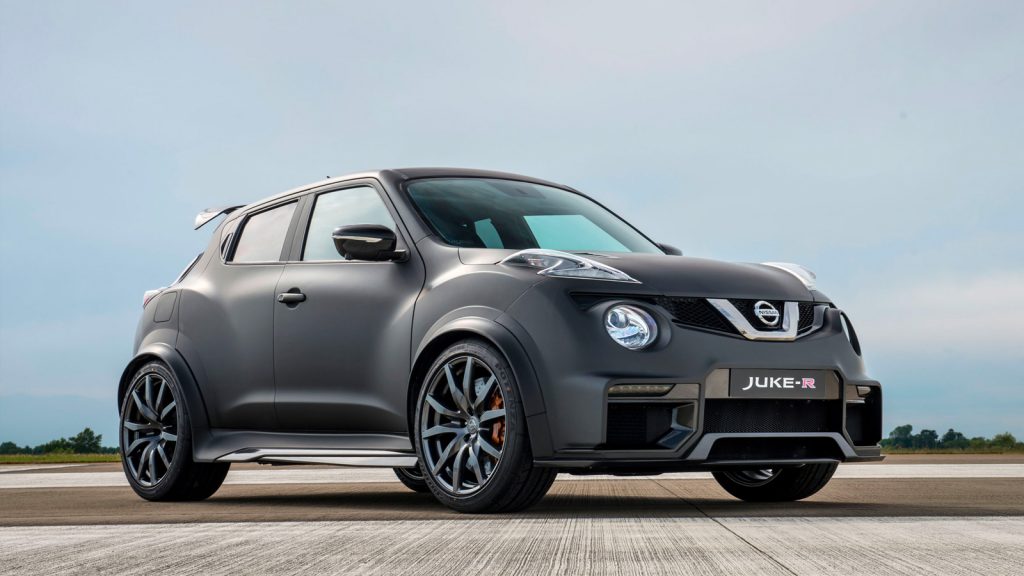 The Nissan Juke will soon be five years old. Cakes, candles and pass the parcel are old news, however: the correct way to mark the occasion is with power. Exotic Car-bashing levels of power, to be more precise.
It's not a new concept, of course, and we've already seen a Nissan Juke R before. The 2011 original saw the gizzards of a GT-R squeezed under the little crossover – presumably with a very large, angry shoehorn – producing a 478bhp, four-wheel-drive headcase.
Such was the success, it would seem, that Nissan has done it all over again, this time with the recently facelifted Juke, more steroidal styling elements and more power. An extra 112bhp, in fact, which is more than you'll find in total in most run-of-the-mill Jukes.
Juke R 2.0, as it's been dubbed, utilises the powertrain from the Nismo GT-R, which means Ferrari 458 Speciale-beating power and torque, a circa-3.0-second 0-60mph time and the potential – should the Juke's plump body not curtail the aerodynamics too much – to nudge 200mph.
---
Nissan Juke-R - Inclusive Self Drive Features
free_Miami_delivery_and_collection
Free 2nd driver
Full tank of fuel
The Nissan Juke-R is delivered with full comprehensive insurance for two drivers as standard, and we can deliver / collect from any address. Our only prerequisite is that you are 25 years of age or over, and hold a valid driving licence.
Nissan Juke-R - Chauffeur Driven Rental
Miami Lusso Chauffeur Driven Exotic car rental happily covers all of Florida. Every destination is reachable to rent a Nissan Juke-R.
Black Nissan Juke-R Car rental , Yellow Nissan Juke-R Car rental , Red Nissan Juke-R Car rental , Blue Nissan Juke-R Car rental , White Nissan Juke-R Car rental , Silver Nissan Juke-R Car rental , Orange Nissan Juke-R Car rental , Green Nissan Juke-R Car rental
Book Now
Self Drive Price
From $350 a day
Please fill in the booking form for more details.
Enquire about our discounted monthly rental rates
Available In
Click to pre-fill the booking form with your preferred choice of colour
Black

Nissan Juke-R

White

Nissan Juke-R

Red

Nissan Juke-R

Yellow

Nissan Juke-R

Green

Nissan Juke-R

Blue

Nissan Juke-R

Silver

Nissan Juke-R

Orange

Nissan Juke-R
Chauffeur Driven Price
4 Hours $850.00
8 Hours $1350.00
Per Hour After $100.00
*Please review our Rental Agreement Terms
Confirm Booking