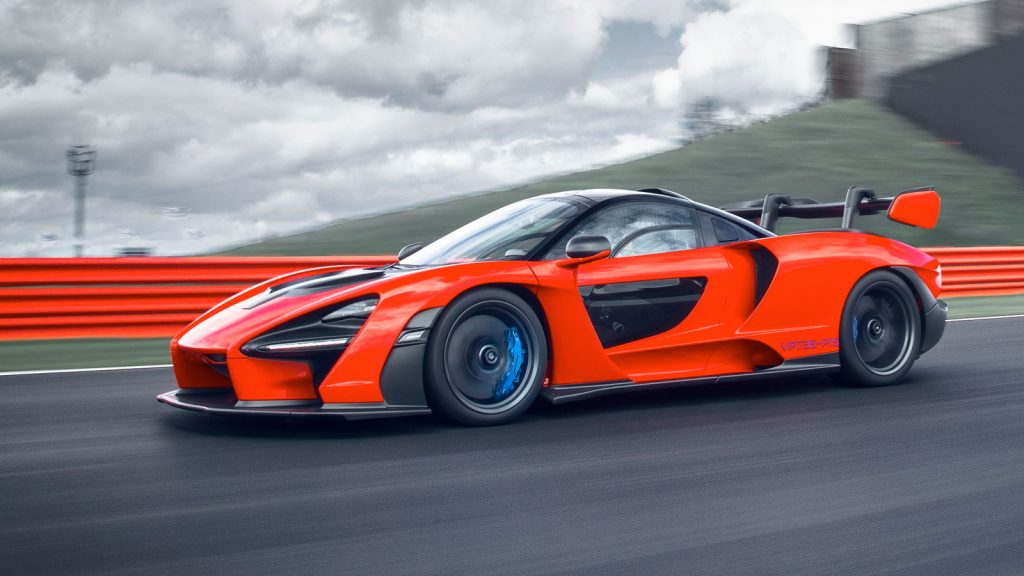 McLaren's main focus while designing the Senna was to achieve faster lap times. In order to do so, McLaren developed a lightweight design that incorporated aerodynamic elements.
The Senna is largely based on the McLaren 720S, using a modified version of its carbon fibre monocoque and engine. The Senna is powered by a modified version of the 720S' 3,994 cc (4.0 L; 243.7 cu in) twin-turbocharged V8 engine codenamed the M840TR. It utilises a seven-speed dual-clutch transmission that delivers all 800 PS (789 bhp; 588 kW) at 7,250 rpm and 590 lb?ft (800 N?m) of torque at 5,500 rpm to the rear wheels. Unlike the previous offering in the Ultimate Series, the P1, the Senna does not use an electric motor in favour of its low dry weight of 1,198 kg (2,641 lb), which allows for a power-to-weight ratio of 658 hp (491 kW; 667 PS) per ton.
---
McLaren Senna - Inclusive Self Drive Features
free_Miami_delivery_and_collection
Free 2nd driver
Full tank of fuel
The McLaren Senna is delivered with full comprehensive insurance for two drivers as standard, and we can deliver / collect from any address. Our only prerequisite is that you are 25 years of age or over, and hold a valid driving licence.
McLaren Senna - Chauffeur Driven Rental
Miami Lusso Chauffeur Driven Exotic car rental happily covers all of Florida. Every destination is reachable to rent a McLaren Senna.
Black McLaren Senna Car rental , Yellow McLaren Senna Car rental , Red McLaren Senna Car rental , Blue McLaren Senna Car rental , White McLaren Senna Car rental , Silver McLaren Senna Car rental , Orange McLaren Senna Car rental , Green McLaren Senna Car rental
Book Now
Self Drive Price
From $POA a day
Please fill in the booking form for more details.
Enquire about our discounted monthly rental rates
Available In
Click to pre-fill the booking form with your preferred choice of colour
Black

McLaren Senna

White

McLaren Senna

Red

McLaren Senna

Yellow

McLaren Senna

Green

McLaren Senna

Blue

McLaren Senna

Silver

McLaren Senna

Orange

McLaren Senna
Chauffeur Driven Price
4 Hours $1600.00
8 Hours $2350.00
Per Hour After $200.00
*Please review our Rental Agreement Terms
Confirm Booking