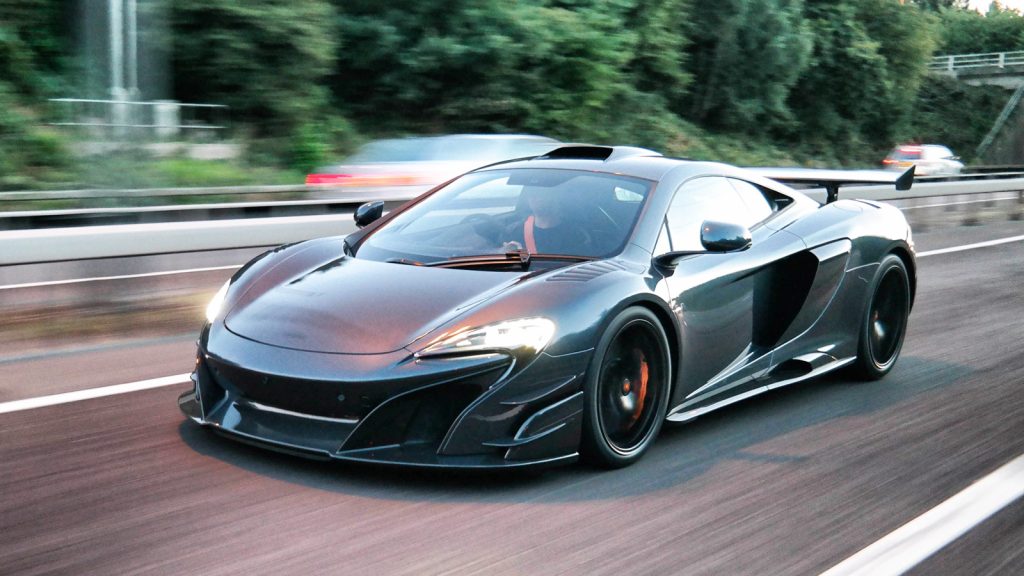 When McLaren established its Special Operations division in 2011, its original mission was to help extremely wealthy individuals create bespoke versions of their already expensive and limited exotic cars. This was all well and good, of course – and highly profitable – but fancy paint and new trim materials were never going to be the limit of its aspirations. The MSO HS (for High Sport), which applied P1 GTR components to a limited run of 675LTs, was indicative of its long-term goals.
The much admired M838T 3.8-litre V8 was tweaked, outputting a massive 688hp and 516lb ft at 7,000rpm. Along with the added power, the HS was put on a diet, stripping 19kg from its kerb weight. Carbon fibre has been used on the front bumper, splitter, side skirts, side intakes, rear diffuser and engine bay, as well as those dive planes up front. There is a race-inspired carbon fibre snorkel, the roof is… yep, you guessed it, and there is a massive GT3-spec active rear wing that helps generate 220kg of downforce at 150mph.
---
McLaren 688 HS - Inclusive Self Drive Features
free_Miami_delivery_and_collection
Free 2nd driver
Full tank of fuel
The McLaren 688 HS is delivered with full comprehensive insurance for two drivers as standard, and we can deliver / collect from any address. Our only prerequisite is that you are 25 years of age or over, and hold a valid driving licence.
McLaren 688 HS - Chauffeur Driven Rental
Miami Lusso Chauffeur Driven Exotic car rental happily covers all of Florida. Every destination is reachable to rent a McLaren 688 HS.
Black McLaren 688 HS Car rental , Yellow McLaren 688 HS Car rental , Red McLaren 688 HS Car rental , Blue McLaren 688 HS Car rental , White McLaren 688 HS Car rental , Silver McLaren 688 HS Car rental , Orange McLaren 688 HS Car rental , Green McLaren 688 HS Car rental
Book Now
Self Drive Price
From $2500 a day
Please fill in the booking form for more details.
Enquire about our discounted monthly rental rates
Available In
Click to pre-fill the booking form with your preferred choice of colour
Black

McLaren 688 HS

White

McLaren 688 HS

Red

McLaren 688 HS

Yellow

McLaren 688 HS

Green

McLaren 688 HS

Blue

McLaren 688 HS

Silver

McLaren 688 HS

Orange

McLaren 688 HS
Chauffeur Driven Price
4 Hours $2650.00
8 Hours $3600.00
Per Hour After $300.00
*Please review our Rental Agreement Terms
Confirm Booking