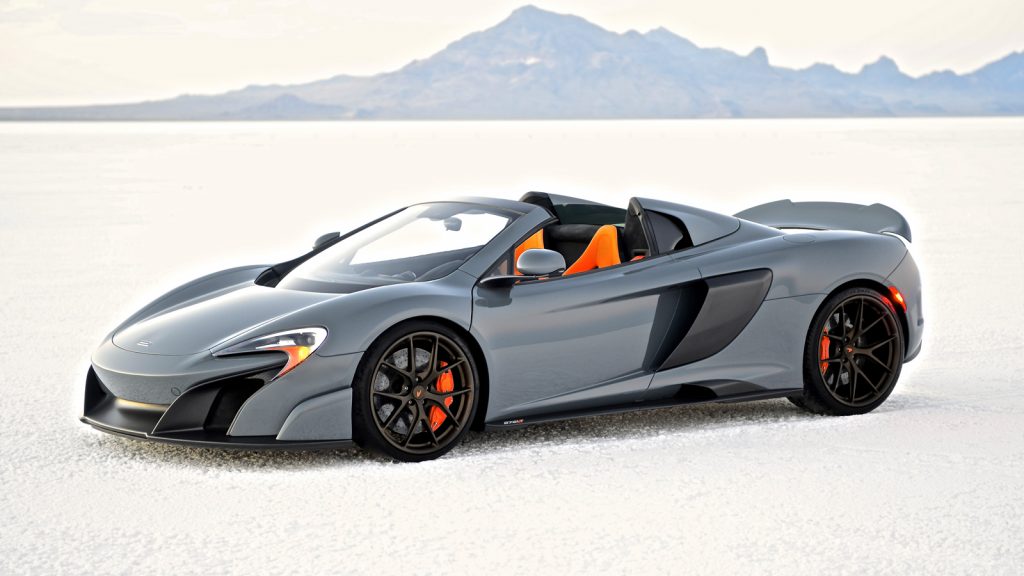 The McLaren 675LT (where "LT" stands for Long Tail) is a lightweight, track-focused evolution of the McLaren 650S. It was announced in February 2015 and introduced at the Geneva Motor Show 2015.[14] It has the fastest Top Gear test track time at 1.13.7
As with the 650S, the 675LT makes use of single-piece carbon fibre monocell weighing 75 kg (165 lb), and carbon fibre use in the vehicle is increased in order to further minimise weight and increase rigidity. The 675LT is supplied with new carbon ceramic brake discs to increase braking performance over the 650S. Disc sizes are 394 mm at the front and 380 mm at the rear. Six-piston calipers grip the front discs with four-piston caliper used for the rears. Braking performance is also aided by the air brake ability of the new rear wing.
The 675LT makes use of a new 10-spoke wheel design, each weighing 800 g less than the alloy wheels on the McLaren P1, supplied in a 19-inch front and 20-inch rear fitment.
---
Mclaren 675LT - Inclusive Self Drive Features
free_Miami_delivery_and_collection
Free 2nd driver
Full tank of fuel
The Mclaren 675LT is delivered with full comprehensive insurance for two drivers as standard, and we can deliver / collect from any address. Our only prerequisite is that you are 25 years of age or over, and hold a valid driving licence.
Mclaren 675LT - Chauffeur Driven Rental
Miami Lusso Chauffeur Driven Exotic car rental happily covers all of Florida. Every destination is reachable to rent a Mclaren 675LT.
Black Mclaren 675LT Car rental , Yellow Mclaren 675LT Car rental , Red Mclaren 675LT Car rental , Blue Mclaren 675LT Car rental , White Mclaren 675LT Car rental , Silver Mclaren 675LT Car rental , Orange Mclaren 675LT Car rental , Green Mclaren 675LT Car rental
Book Now
Self Drive Price
From $1000 a day
Please fill in the booking form for more details.
Enquire about our discounted monthly rental rates
Available In
Click to pre-fill the booking form with your preferred choice of colour
Black

Mclaren 675LT

White

Mclaren 675LT

Red

Mclaren 675LT

Yellow

Mclaren 675LT

Green

Mclaren 675LT

Blue

Mclaren 675LT

Silver

Mclaren 675LT

Orange

Mclaren 675LT
Chauffeur Driven Price
4 Hours $1600.00
8 Hours $2350.00
Per Hour After $200.00
*Please review our Rental Agreement Terms
Confirm Booking