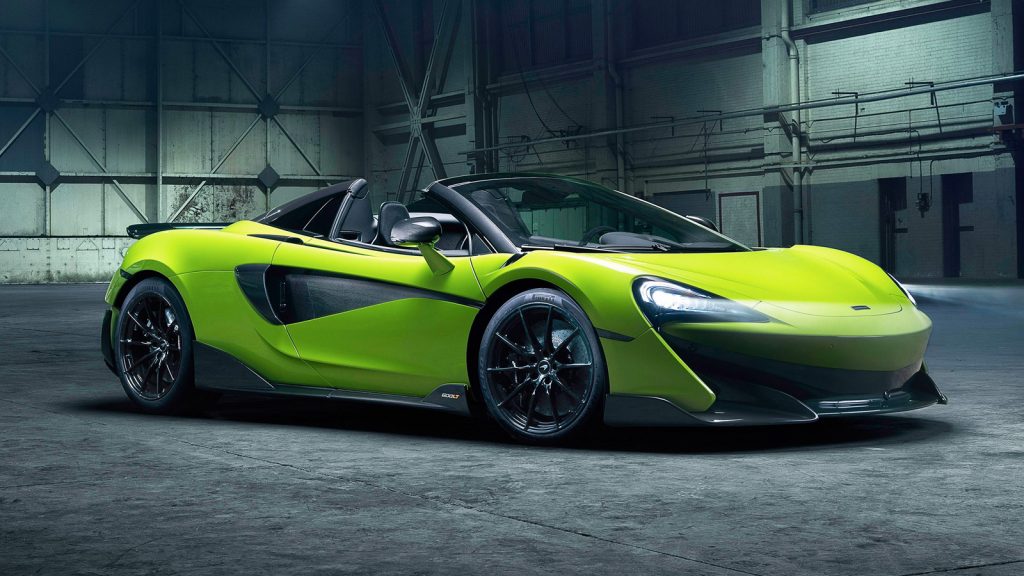 The fourth-ever Longtail from McLaren packs 592bhp and is 96 kilograms lighter than the standard 570S Coupe.
There's a new range topper in McLaren's Sports Series and it's called the 600 Longtail. Slotting above the 570S upon which it's based, the LT comes with a modified carbon fibre body extended by 7.3 centimetres compared to the donor car. Separating the new model furthermore are the top-exit tips belonging to an exhaust system shorter than that of the hardcore Senna.
While it make look familiar to fans of the Woking-based marque, the new 600LT has gone through quite a lot of changes to shave off a whopping 95.98 kilograms and enable a remarkable dry weight of just 1,247 kg. Bear in mind this figure is achieved after adding all the possible lightweight goodies developed by McLaren Special Operations. These include items such as a carbon fibre roof and vented front wings made from the same lightweight yet ultra-durable material.
When put side by side with the 570S, the 600LT stands out thanks to its extended front splitter, new side sills, and a longer diffuser at the back where there's also a fixed wing to aid aerodynamics by increasing downforce. Some would say the Longtail is more of the same, but McLaren points out the new model has 23 percent newly developed parts judging by numbers.
---
Mclaren 600LT Spider - Inclusive Self Drive Features
free_Miami_delivery_and_collection
Free 2nd driver
Full tank of fuel
The Mclaren 600LT Spider is delivered with full comprehensive insurance for two drivers as standard, and we can deliver / collect from any address. Our only prerequisite is that you are 25 years of age or over, and hold a valid driving licence.
Mclaren 600LT Spider - Chauffeur Driven Rental
Miami Lusso Chauffeur Driven Exotic car rental happily covers all of Florida. Every destination is reachable to rent a Mclaren 600LT Spider.
Black Mclaren 600LT Spider Car rental , Yellow Mclaren 600LT Spider Car rental , Red Mclaren 600LT Spider Car rental , Blue Mclaren 600LT Spider Car rental , White Mclaren 600LT Spider Car rental , Silver Mclaren 600LT Spider Car rental , Orange Mclaren 600LT Spider Car rental , Green Mclaren 600LT Spider Car rental
Book Now
Self Drive Price
From $1100 a day
Please fill in the booking form for more details.
Enquire about our discounted monthly rental rates
Available In
Click to pre-fill the booking form with your preferred choice of colour
Black

Mclaren 600LT Spider

White

Mclaren 600LT Spider

Red

Mclaren 600LT Spider

Yellow

Mclaren 600LT Spider

Green

Mclaren 600LT Spider

Blue

Mclaren 600LT Spider

Silver

Mclaren 600LT Spider

Orange

Mclaren 600LT Spider
*Please review our Rental Agreement Terms
Confirm Booking