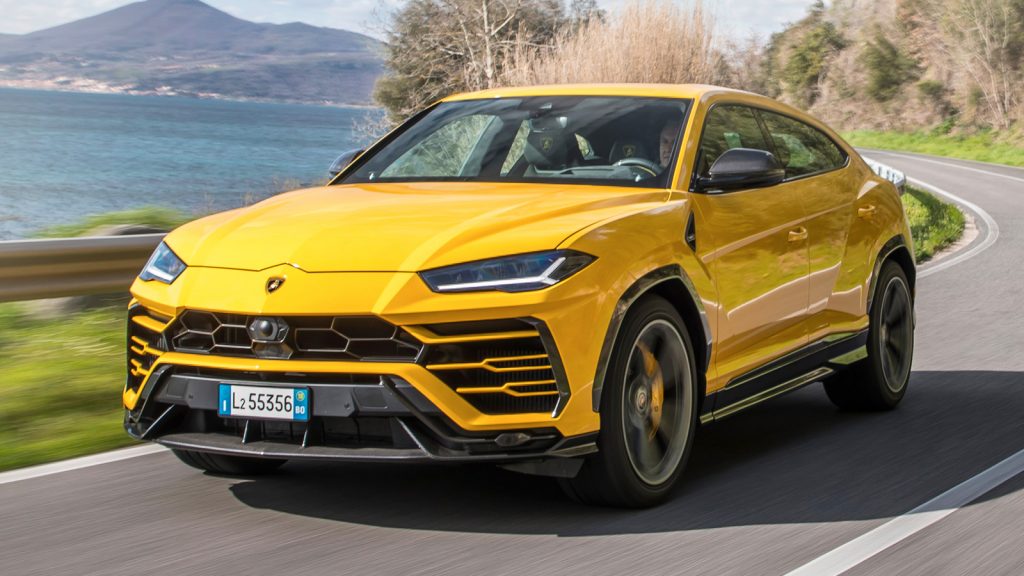 The Lamborghini Urus concept was unveiled at the 2012 Beijing Auto Show on 23 April 2012. Later, the SUV was also shown at Pebble Beach in 2012. Powered by a 5.2 L V10 engine of the Gallardo, the concept SUV had a maximum power output of 592 hp and was accompanied with an all-wheel drive system. The Urus was reported to have the lowest carbon emissions as compared to its competitors (i.e. the Porsche Cayenne, Bentley Bentayga and the Audi Q7). The Urus was conceived as a perfect daily driver unlike the other offerings from the brand. The exterior design of the SUV had heavy influence from the company's V12 flagship, the Aventador and had razor-sharp lines along with finely executed surfaces. The production version of the SUV was revealed in 2017 with major changes done to the exterior and featuring a different powertrain than that of the concept.
The Lamborghini Urus does not use Lamborghini's hallmark of naturally aspirated V10 (as used in the concept) or V12 engines. Instead, Lamborghini has developed a new 650 PS (478 kW) 4.0 L twin-turbo V8. Lamborghini claims this engine is solely used by Lamborghini, eschewing the idea that it is simply a re-tuned version of Audi's 4.0L V8 that has its application in some of the Audi S and RS models along with the A8 and shared with Bentley in the Continental V8 and the Flying Spur V8. The engine is assembled at a Volkswagen plant in Hungary and is shipped to Lamborghini to be put inside the SUV.
---
Lamborghini Urus - Inclusive Self Drive Features
free_Miami_delivery_and_collection
Free 2nd driver
Full tank of fuel
The Lamborghini Urus is delivered with full comprehensive insurance for two drivers as standard, and we can deliver / collect from any address. Our only prerequisite is that you are 25 years of age or over, and hold a valid driving licence.
Lamborghini Urus - Chauffeur Driven Rental
Miami Lusso Chauffeur Driven Exotic car rental happily covers all of Florida. Every destination is reachable to rent a Lamborghini Urus.
Black Lamborghini Urus Car rental , Yellow Lamborghini Urus Car rental , Red Lamborghini Urus Car rental , Blue Lamborghini Urus Car rental , White Lamborghini Urus Car rental , Silver Lamborghini Urus Car rental , Orange Lamborghini Urus Car rental , Green Lamborghini Urus Car rental
Book Now
Self Drive Price
From $1100 a day
Please fill in the booking form for more details.
Enquire about our discounted monthly rental rates
Available In
Click to pre-fill the booking form with your preferred choice of colour
Black

Lamborghini Urus

White

Lamborghini Urus

Red

Lamborghini Urus

Yellow

Lamborghini Urus

Green

Lamborghini Urus

Blue

Lamborghini Urus

Silver

Lamborghini Urus

Orange

Lamborghini Urus
Chauffeur Driven Price
4 Hours $850.00
8 Hours $1350.00
Per Hour After $100.00
*Please review our Rental Agreement Terms
Confirm Booking