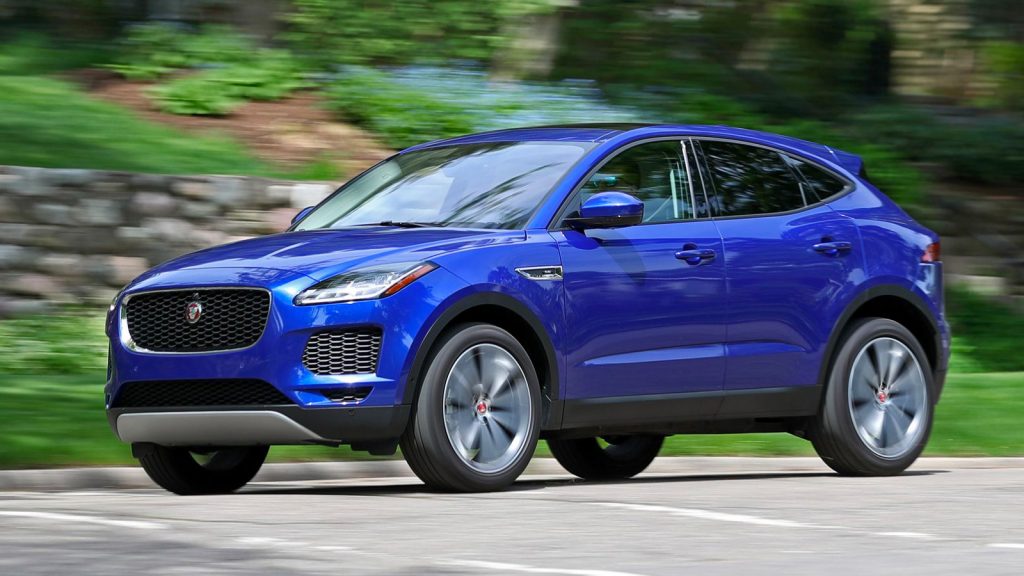 Finally unveiled with the now-essential pyrotechnic bang is Jaguar's E-Pace SUV, slotting beneath the rapid-selling F-Pace and sister car to the forthcoming electric I-Pace.
Having built its image on sporting saloons and sexy sports cars, Jaguar is now in the same position as everyone else – make SUVs or get left behind.
The E-Pace was already well into its development when the F-Pace was launched, but the massive success of that car has vindicated the decision to introduce a smaller offering.
We'll see the E-Pace in the metal at the 2017 Frankfurt motor show, but it's available to order now.
What stunt did Jaguar pull off this time?
No new JLR launch is complete without there being some kind of record set. For the new E-Pace SUV, Terry Grant set about performing a corkscrew jump – officially called an Astro Spiral Jump – covering 15.3 metres and 270 degrees of rotation in the process and bagging himself a plaque for the 'Furthest barrel roll in a production vehicle'.
---
Jaguar E Pace - Inclusive Self Drive Features
free_Miami_delivery_and_collection
Free 2nd driver
Full tank of fuel
The Jaguar E Pace is delivered with full comprehensive insurance for two drivers as standard, and we can deliver / collect from any address. Our only prerequisite is that you are 25 years of age or over, and hold a valid driving licence.
Jaguar E Pace - Chauffeur Driven Rental
Miami Lusso Chauffeur Driven Exotic car rental happily covers all of Florida. Every destination is reachable to rent a Jaguar E Pace.
Black Jaguar E Pace Car rental , Yellow Jaguar E Pace Car rental , Red Jaguar E Pace Car rental , Blue Jaguar E Pace Car rental , White Jaguar E Pace Car rental , Silver Jaguar E Pace Car rental , Orange Jaguar E Pace Car rental , Green Jaguar E Pace Car rental
Book Now
Self Drive Price
From $350 a day
Please fill in the booking form for more details.
Enquire about our discounted monthly rental rates
Available In
Click to pre-fill the booking form with your preferred choice of colour
Black

Jaguar E Pace

White

Jaguar E Pace

Red

Jaguar E Pace

Yellow

Jaguar E Pace

Green

Jaguar E Pace

Blue

Jaguar E Pace

Silver

Jaguar E Pace

Orange

Jaguar E Pace
Chauffeur Driven Price
4 Hours $850.00
8 Hours $1350.00
Per Hour After $100.00
*Please review our Rental Agreement Terms
Confirm Booking