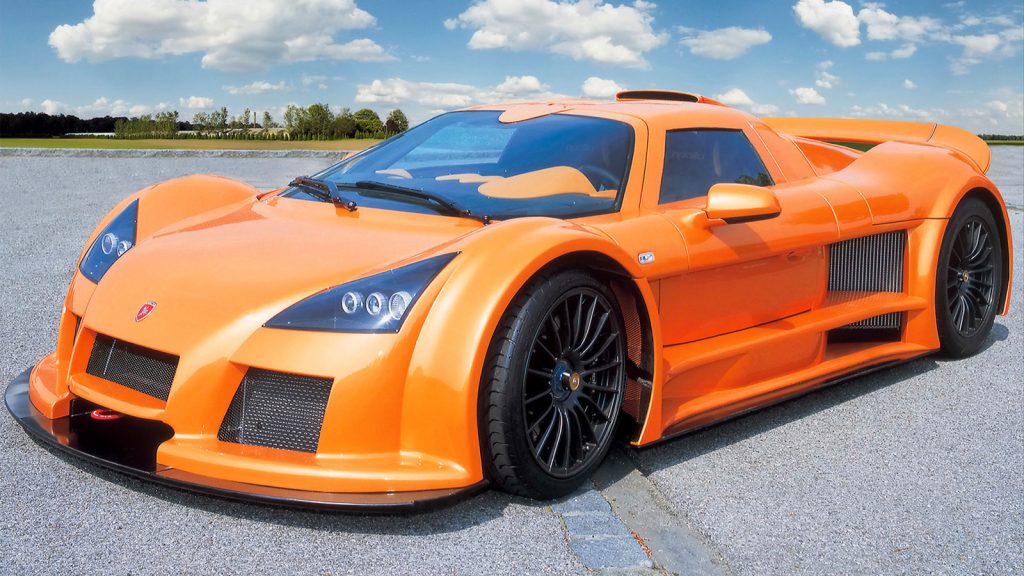 The Gumpert Apollo used the Leipzig-Altenburg Airport as a test track.
The Apollo uses a 4,163 cc bi-turbo intercooled version of the Audi V8 engine. The 90° V8 has a closed-deck light metal crankcase with dry sump lubrication. The light metal cylinder heads have five valves per cylinder, four overhead camshafts, VarioCam Direct variable valve timing on the intakes, and hydraulic valve clearance compensation. The double-flow exhaust system has four oxygen sensors to monitor the gas mixture, and a 3-way catalytic converter. Modern controls include an on-board diagnostic system, eight-coil electronic ignition, sequential multipoint fuel injection, and an electronic (drive by wire) accelerator system.
There are 3 engine types available:
Base version – approximately 650 PS (478 kW; 641 bhp)
Sport version – approximately 700 PS (515 kW; 690 bhp)
Race version – approximately 800 PS (588 kW; 789 bhp)
---
Gumpert Apollo - Inclusive Self Drive Features
free_Miami_delivery_and_collection
Free 2nd driver
Full tank of fuel
The Gumpert Apollo is delivered with full comprehensive insurance for two drivers as standard, and we can deliver / collect from any address. Our only prerequisite is that you are 25 years of age or over, and hold a valid driving licence.
Gumpert Apollo - Chauffeur Driven Rental
Miami Lusso Chauffeur Driven Exotic car rental happily covers all of Florida. Every destination is reachable to rent a Gumpert Apollo.
Black Gumpert Apollo Car rental , Yellow Gumpert Apollo Car rental , Red Gumpert Apollo Car rental , Blue Gumpert Apollo Car rental , White Gumpert Apollo Car rental , Silver Gumpert Apollo Car rental , Orange Gumpert Apollo Car rental , Green Gumpert Apollo Car rental
Book Now
Self Drive Price
From $POA a day
Please fill in the booking form for more details.
Enquire about our discounted monthly rental rates
Available In
Click to pre-fill the booking form with your preferred choice of colour
Black

Gumpert Apollo

White

Gumpert Apollo

Red

Gumpert Apollo

Yellow

Gumpert Apollo

Green

Gumpert Apollo

Blue

Gumpert Apollo

Silver

Gumpert Apollo

Orange

Gumpert Apollo
Chauffeur Driven Price
4 Hours $2650.00
8 Hours $3600.00
Per Hour After $300.00
*Please review our Rental Agreement Terms
Confirm Booking