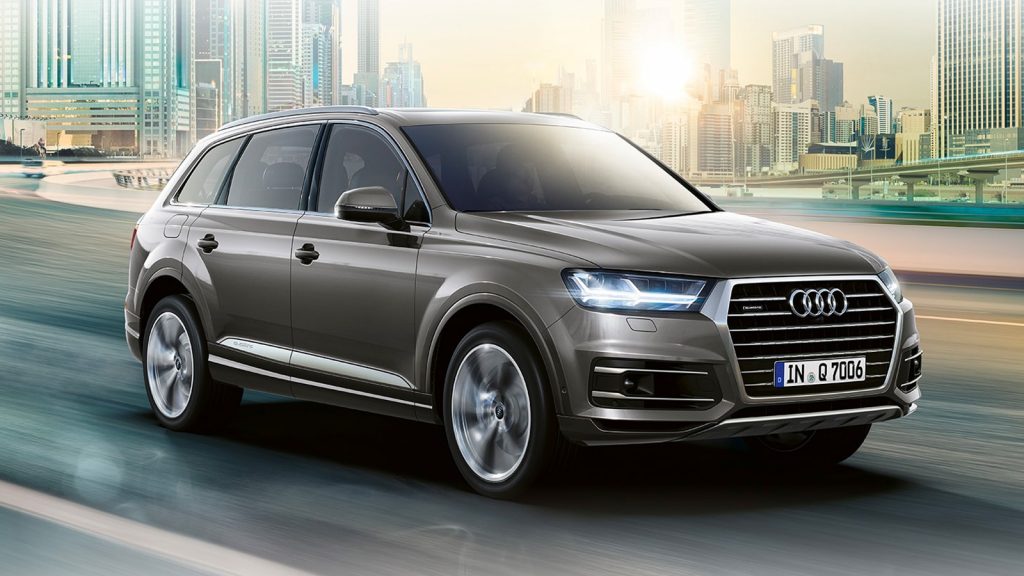 Unfortunately, there aren't many performance vehicles packing diesel powertrains. Oil burners are well known for monumental torque, but their relatively low horsepower figures don't help with off-the-line acceleration. Now, Audi hopes to change this, with a new high-performance variant of its full-size Q7 SUV.
To combat diesel engines' sometimes sluggish initial performance, Audi fitted the SQ7's 4.0-liter V-8 with a unique forced-induction system. The engine is fitted with a twin-turbo setup, with one small turbo engaging at lower rpms, and a bigger turbocharger for higher in the rev range. To fill the gaps, Audi furnished the SQ7 with a production-first electronic supercharger. The supercharger is powered by a small auxiliary electric motor, spooling up sooner to allow instantaneous torque off-the-line.
---
Audi SQ7 - Inclusive Self Drive Features
free_Miami_delivery_and_collection
Free 2nd driver
Full tank of fuel
The Audi SQ7 is delivered with full comprehensive insurance for two drivers as standard, and we can deliver / collect from any address. Our only prerequisite is that you are 25 years of age or over, and hold a valid driving licence.
Audi SQ7 - Chauffeur Driven Rental
Miami Lusso Chauffeur Driven Exotic car rental happily covers all of Florida. Every destination is reachable to rent a Audi SQ7.
Black Audi SQ7 Car rental , Yellow Audi SQ7 Car rental , Red Audi SQ7 Car rental , Blue Audi SQ7 Car rental , White Audi SQ7 Car rental , Silver Audi SQ7 Car rental , Orange Audi SQ7 Car rental , Green Audi SQ7 Car rental
Book Now
Self Drive Price
From $400 a day
Please fill in the booking form for more details.
Enquire about our discounted monthly rental rates
Available In
Click to pre-fill the booking form with your preferred choice of colour
Black

Audi SQ7

White

Audi SQ7

Red

Audi SQ7

Yellow

Audi SQ7

Green

Audi SQ7

Blue

Audi SQ7

Silver

Audi SQ7

Orange

Audi SQ7
Chauffeur Driven Price
4 Hours $850.00
8 Hours $1350.00
Per Hour After $100.00
*Please review our Rental Agreement Terms
Confirm Booking