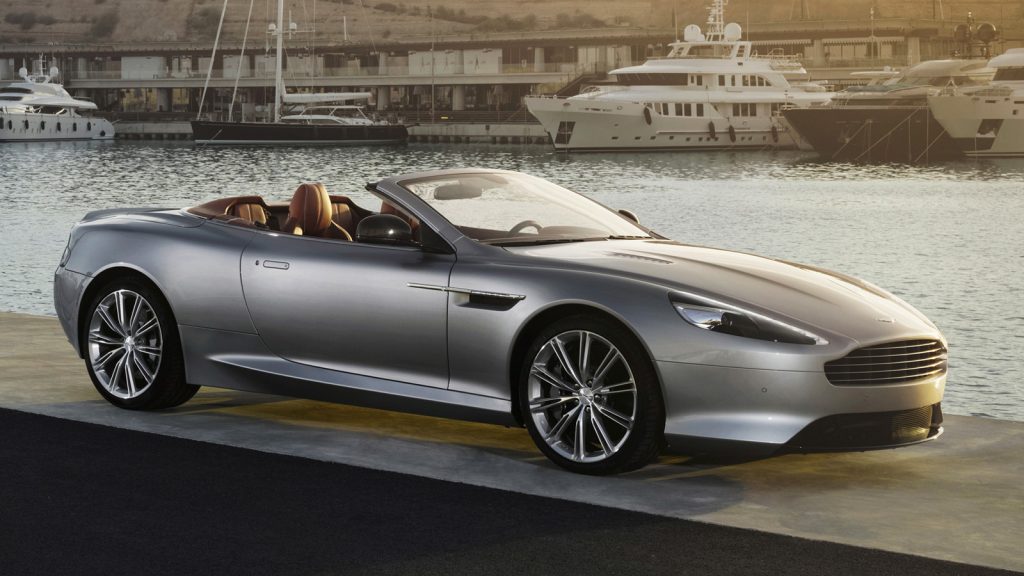 With an exquisite cabin, a mellifluous V12 motor and styling that will still turn heads in 2050, the Aston Martin DB9 GT Volante is a highly desirable drop-top grand tourer.
First launched in 2004, the DB9 GT is also available as a coupe.
Updated for the latest model year, the DB9 GT gains a more powerful engine, a slightly revised front fascia and a new infotainment system.
Although the basic look of the exterior, including its classic proportions and graceful stance, remained unchanged as part of the refresh, there are several new details to the latest drop-top DB9 GT apart from its predecessor. It gains revised lights on both ends, a sprinkling of black trim, and 20-inch alloy wheels.
From the side, the DB9 Volante looks more aerodynamic, though the profile remains the same as any modern Aston Martin GT. At the rear, an integrated spoiler improves aerodynamics. Some design details have made their way down from the ultra-exclusive One-77, like the five-vane front grille.
Underneath its hood, DB9 boasts the latest version of Aston Martin's proven 5.9-liter V12 engine. Essentially a detuned version of the Vanquish exotic car's mill, the DB9's unit serves up 540 horsepower — 30 more than the outgoing model — along with 457 lb-ft of torque. The zero-to-sixty mph sprint is achieved in the low-four-second range.
The engine mates exclusively to a six-speed automatic transmission that shifts smoothly but more slowly than the dual clutch boxes used by many of the DB9's rivals. Aston Martin recently eliminated the more sporting manual transmission option; those looking for a proper three-pedal gearbox will have to settle for the V8 Vantage Roadster.
The DB9 Volante continues to utilize Aston Martin's flexible and lightweight "Vertical/Horizontal" architecture, which is constructed from aluminum. The suspension was recently optimized for improved handling and includes an active damping system with Comfort and Sport modes. Even with the latter engaged, the ride remains compliant and there's more body roll than would be found in a true sports car. However, the handling is pleasantly responsive overall.
Inside, the DB9 Volante is simply sumptuous, with soft leather, alloy trim and other high-quality materials covering nearly every surface. The tasteful dashboard layout hasn't changed much since the car's introduction, although the climate and entertainment system controls were recently redesigned for greater ease of use. A wide variety of different leather, wood and carbon fiber options can be specified, and color choices are also nearly infinite. There's plenty of room for the driver and passenger up front, but the rear seats are for extremely small children only.
---
Aston Martin DB9 Volante - Inclusive Self Drive Features
free_Miami_delivery_and_collection
Free 2nd driver
Full tank of fuel
The Aston Martin DB9 Volante is delivered with full comprehensive insurance for two drivers as standard, and we can deliver / collect from any address. Our only prerequisite is that you are 25 years of age or over, and hold a valid driving licence.
Aston Martin DB9 Volante - Chauffeur Driven Rental
Miami Lusso Chauffeur Driven Exotic car rental happily covers all of Florida. Every destination is reachable to rent a Aston Martin DB9 Volante.
Black Aston Martin DB9 Volante Car rental , Yellow Aston Martin DB9 Volante Car rental , Red Aston Martin DB9 Volante Car rental , Blue Aston Martin DB9 Volante Car rental , White Aston Martin DB9 Volante Car rental , Silver Aston Martin DB9 Volante Car rental , Orange Aston Martin DB9 Volante Car rental , Green Aston Martin DB9 Volante Car rental
Book Now
Self Drive Price
From $700 a day
Please fill in the booking form for more details.
Enquire about our discounted monthly rental rates
Available In
Click to pre-fill the booking form with your preferred choice of colour
Black

Aston Martin DB9 Volante

White

Aston Martin DB9 Volante

Red

Aston Martin DB9 Volante

Yellow

Aston Martin DB9 Volante

Green

Aston Martin DB9 Volante

Blue

Aston Martin DB9 Volante

Silver

Aston Martin DB9 Volante

Orange

Aston Martin DB9 Volante
Chauffeur Driven Price
4 Hours $1600.00
8 Hours $2350.00
Per Hour After $200.00
*Please review our Rental Agreement Terms
Confirm Booking