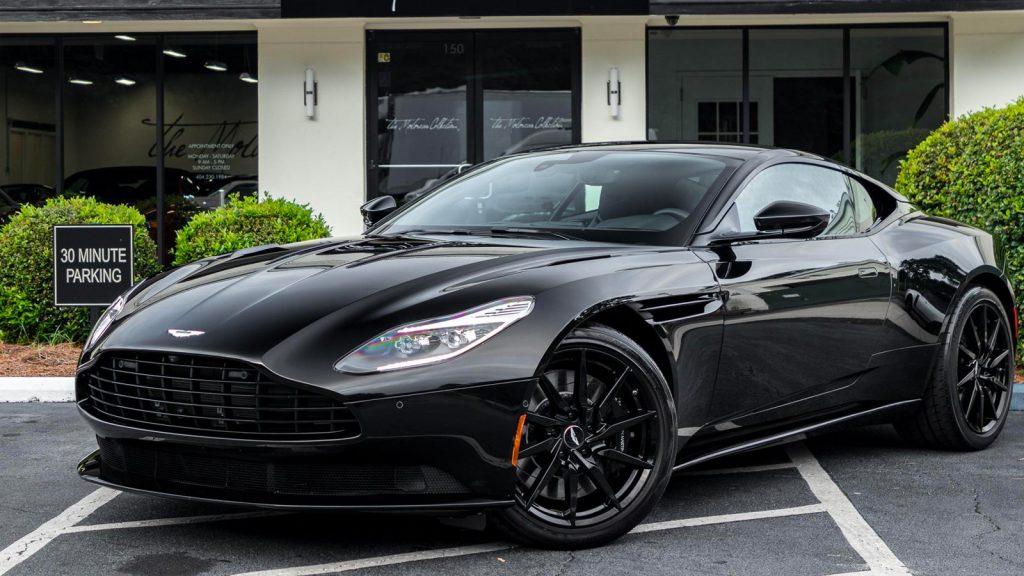 The new Aston Martin DB11 is the successor to the DB9 and the first in what will be a completely fresh, Andy Palmer-led product line-up from Gaydon. The exterior is undeniably Aston, but has plenty of design cues from the mighty One-77 which makes it feel much more modern. The interior is the biggest leap forward, however, with a beautiful new design to the cabin and both hardware and software lifted from Mercedes (albeit clothed in Aston leather). Whether using it day to day or on a long, cross-continent journey, having a satnav, radio and Bluetooth connection that are all easily navigable makes the new DB11 feel like a much more habitable place to spend time compared to any other recent Aston.
The new twin-turbo, all-alloy, quad-cam, 48 valve, 5.2-litre V12 is a mighty power plant. With outputs of 600bhp and 516lb ft, the DB11 is the most powerful road car Aston has produced this side of the considerably more expensive and more exclusive One-77. As well as being fast it is also more frugal as the V12 has cylinder deactivation (Intelligent Bank Activation in Aston speak) and stop-start. The power is sent to the rear wheels via ZF's ubiquitous but very good eight-speed automatic gearbox. There is also a mechanical limited-slip diff and active torque vectoring using the brakes. Off the line the DB11 achieves a 0-60mph time of 3.7sec.
---
Aston Martin DB11 - Inclusive Self Drive Features
free_Miami_delivery_and_collection
Free 2nd driver
Full tank of fuel
The Aston Martin DB11 is delivered with full comprehensive insurance for two drivers as standard, and we can deliver / collect from any address. Our only prerequisite is that you are 25 years of age or over, and hold a valid driving licence.
Aston Martin DB11 - Chauffeur Driven Rental
Miami Lusso Chauffeur Driven Exotic car rental happily covers all of Florida. Every destination is reachable to rent a Aston Martin DB11.
Black Aston Martin DB11 Car rental , Yellow Aston Martin DB11 Car rental , Red Aston Martin DB11 Car rental , Blue Aston Martin DB11 Car rental , White Aston Martin DB11 Car rental , Silver Aston Martin DB11 Car rental , Orange Aston Martin DB11 Car rental , Green Aston Martin DB11 Car rental
Book Now
Self Drive Price
From $1000 a day
Please fill in the booking form for more details.
Enquire about our discounted monthly rental rates
Available In
Click to pre-fill the booking form with your preferred choice of colour
Black

Aston Martin DB11

White

Aston Martin DB11

Red

Aston Martin DB11

Yellow

Aston Martin DB11

Green

Aston Martin DB11

Blue

Aston Martin DB11

Silver

Aston Martin DB11

Orange

Aston Martin DB11
Chauffeur Driven Price
4 Hours $1600.00
8 Hours $2350.00
Per Hour After $200.00
*Please review our Rental Agreement Terms
Confirm Booking