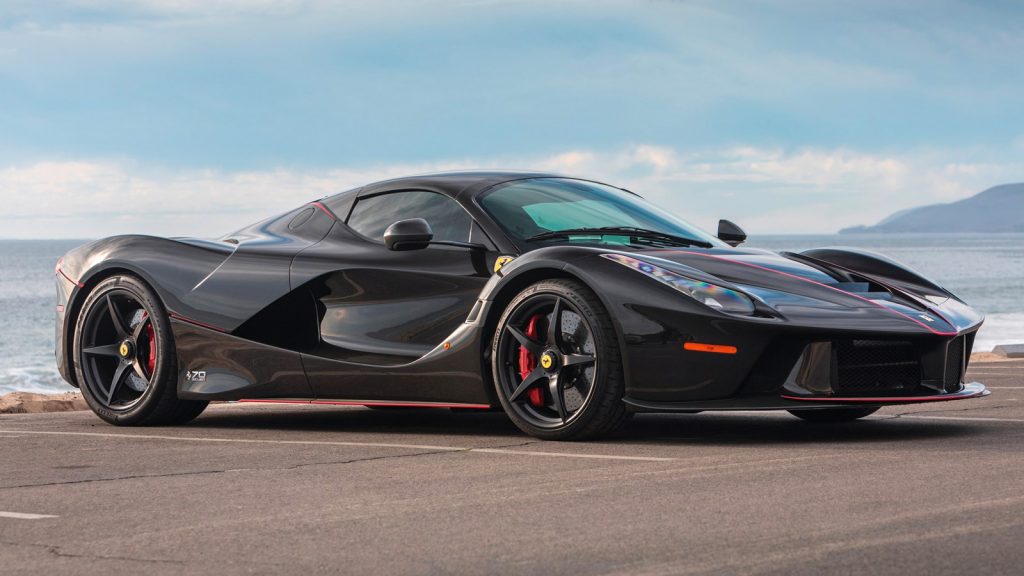 LaFerrari is a limited production hybrid Exotic Car built by the world leader of exotic cars "Ferrari".
LaFerrari simply means "The Ferrari" in most Romance languages, in the sense that LaFerrari is the 'definitive' Ferrari.
The Ferrari LaFerrari theme is a 6.3 Litre V12 provides 800 bhp supplemented by an electric motor attached to the rear of the gearbox resulting in a total of just over 960 prancing horses. Like most other hybrid exotic cars, the LaFerrari employs a kinetic energy recovery system (KERS) in this case developed from that used in F1 cars. This may result in some energy savings but this car is unlikely to offer much more than around 16 mpg … but who cares!
It seemed to many that the days of the exotic cars were over and they were doomed to go the same way as the dinosaurs. The makers of some of the world's most exciting cars were having none of this of course and rather than scaling down the performance of their cars to conform with modern requirements, they simply designed cars which harnessed electric power as a means of offering enhanced levels of performance while still conforming with statutory regulations. Individual manufacturers have employed different methods of achieving this
---
Ferrari LaFerrari - Inclusive Self Drive Features
free_Miami_delivery_and_collection
Free 2nd driver
Full tank of fuel
The Ferrari LaFerrari is delivered with full comprehensive insurance for two drivers as standard, and we can deliver / collect from any address. Our only prerequisite is that you are 25 years of age or over, and hold a valid driving licence.
Ferrari LaFerrari - Chauffeur Driven Rental
Miami Lusso Chauffeur Driven Exotic car rental happily covers all of Florida. Every destination is reachable to rent a Ferrari LaFerrari.
Black Ferrari LaFerrari Car rental , Yellow Ferrari LaFerrari Car rental , Red Ferrari LaFerrari Car rental , Blue Ferrari LaFerrari Car rental , White Ferrari LaFerrari Car rental , Silver Ferrari LaFerrari Car rental , Orange Ferrari LaFerrari Car rental , Green Ferrari LaFerrari Car rental
Book Now
Self Drive Price
From $3500 a day
Please fill in the booking form for more details.
Enquire about our discounted monthly rental rates
Available In
Click to pre-fill the booking form with your preferred choice of colour
Black

Ferrari LaFerrari

White

Ferrari LaFerrari

Red

Ferrari LaFerrari

Yellow

Ferrari LaFerrari

Green

Ferrari LaFerrari

Blue

Ferrari LaFerrari

Silver

Ferrari LaFerrari

Orange

Ferrari LaFerrari
Chauffeur Driven Price
4 Hours $2650.00
8 Hours $3600.00
Per Hour After $300.00
*Please review our Rental Agreement Terms
Confirm Booking